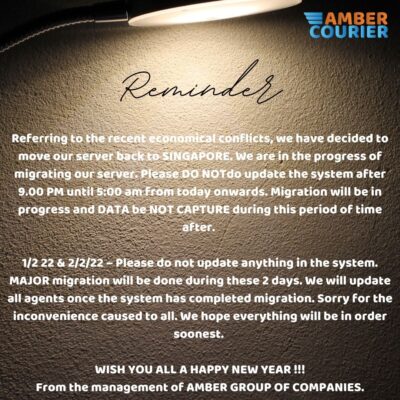 Referring to the recent economical conflicts, we have decided to move our server back to SINGAPORE. We are in the progress of migrating our server. Please DO NOTdo update the system after 9.00 PM until 5:00 am from today onwards. Migration will be in progress and DATA be NOT CAPTURE during this period of time after.
1/2 22 & 2/2/22 – Please do not update anything in the system. MAJOR migration will be done during these 2 days. We will update all agents once the system has completed migration. Sorry for the inconvenience caused to all. We hope everything will be in order soonest.
WISH YOU ALL A HAPPY NEW YEAR !!!
From the management of AMBER GROUP OF COMPANIES.